Please visit @ivylovespugs on Instagram to see a much larger amount of her work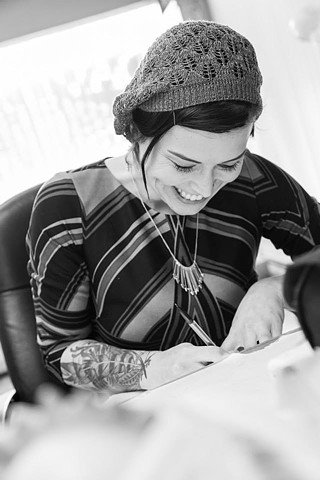 Ivy Boersma-Calhoun is a tattoo artist who has worked in the industry since 2009. She is able to be a versatile tattoo artist due to her 13 years of experience, an intensive apprenticeship, and her background as a professional artist. Before tattooing she worked as a caricature artist for Sesame Place, she has extensive experience as a graphic designer, and even worked as an animator for a TV show. She earned a BFA in Animation from The University of the Arts in Philadelphia, PA in 2003.
She is proud to have studied under the guidance of her mentor, Brian Donovan, owner of Davidian Tattoo Studio in Hatboro, PA. Brian is a world-renowned tattoo artist who continues to leave his mark on a wealth of people in the Philadelphia suburbs and beyond. Ivy worked alongside him at Davidian Tattoo Studio for a 11 wonderful years.
She has now moved on to work at Art Machine 2.0 in Bensalem, PA, and is very excited to finally work with Tim Pangburn, the shop's owner, who is a famous tattoo artist and also an outspoken mental health advocate. The opportunity to work for him is a dream come true.


If she may be so bold, to post this on her own website... Ivy is a warm and welcoming person. Her first goal when tattooing you is to make sure that you are very comfortable and at ease with the entire process. This includes seeing your drawing before your appointment date, to make sure you like it. This also includes changing said drawing until it is exactly what you want or better. You can DM her Instagram @ivylovespugs, if you'd like, and she'll reply back as soon as she can, to the best of her ability. Ivy works through e-mail, text messages, virtual Zoom consults, phone calls, or in-person consults. Whatever makes you most comfortable. Some tattoo artists are a bit intimidating; Ivy doesn't think she's too cool for you or anyone. That's not what art is about, nor should it be what tattooing is about. She provides a service and does everything in her power to make sure you have a wonderful experience and that you love your tattoo. If it is your first time getting tattooed she will explain the process and ease your mind. If you're afraid you're too old to get a tattoo, she will tell you tales of tattooing 87-year-old women, and she'll dare you to break that record. If you have body image issues -- she understands what that's like -- and will make sure you don't feel exposed to the world as you're getting your tattoo. If you don't like the music she's playing, just tell her. A tattoo is a life-changing event: have some fun with it!
Alright. Let's get down from this soapbox. If you'd like to inquire about a tattoo please scroll up and go to the "Contact" link. If you were referred to her by someone else, please mention that in your message. Thanks for visiting this site and reading all the way to the end.